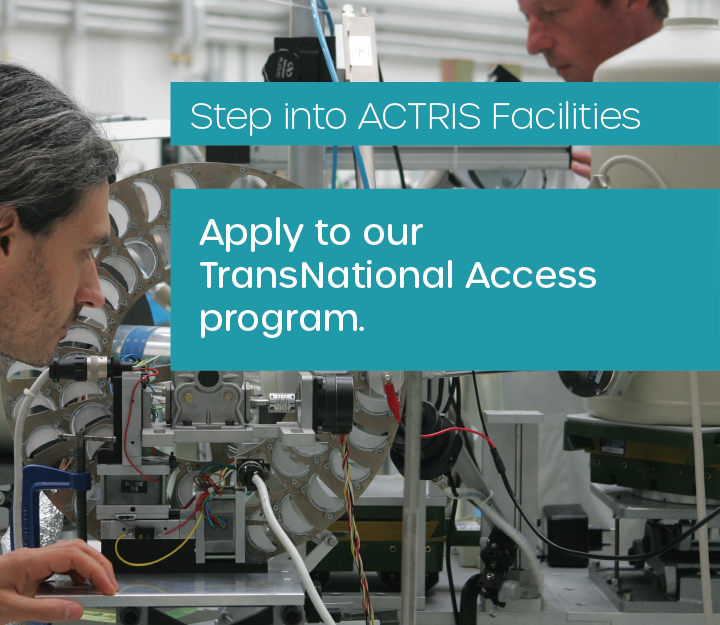 ---
The second call for proposals to access ACTRIS facilities is now open. The ACTRIS IMP project will offer limited opportunities for free-of-charge Trans-National Access (TNA) to specific services at 11 ACTRIS facilities comprising Topical Centres (TCs), the Data Centre (DC), National Facilities (NFs), or combined ACTRIS Facilities (NF-TC), located in 10 different countries.
The objective of the TNA pilot is to implement and test the service provision to assess and improve the reliability of the overall service provision within ACTRIS, increase the user trust and expand the user base. Access is offered to specific services described in the ACTRIS brochure.
Each application will be reviewed according to the following criteria:
    Scientific excellence and quality of the research activities
    Relevance and impact
    Quality of the dissemination plan
    Potential connection with the industrial world
    Potential cross-disciplinary aspects
    Training benefit in the project
    New users, gender equality
 
Due to COVID-19 measures and constraints on physical mobility, the TNA pilot call particularly encourages projects via remote access!
Go to the TNA page for more information.
Timeline of the call :
Publication date: September 16, 2021
Application deadline: November 15, 2021
Access period: January – December 2022
Due to COVID-19 we may adjust and provide for some flexibility on the indicated dates