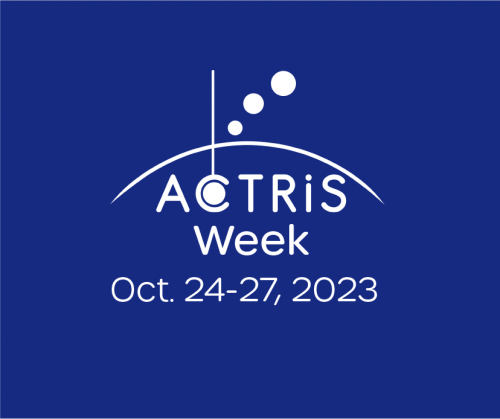 ---
Tuesday, October 24th - Friday, October 27th 2023
Physical Meeting (with a possibility of remote connection)
Meeting venue

Meeting Venue:

ACTRIS Week 2023 will take place at the Conference Centre of the Aquila Atlantis Hotel, in Heraklion, Greece. The hotel is located at 2 Ygias St., Heraklion, Crete, 71202, Greece.

Physical attendees are encouraged to book the rooms for their stay at the Atlantis Hotel with a special rate. Link for the booking can be found below in the Accommodation section.

Remote connection will be provided for remote participants.

Aim

The aim of the ACTRIS Week 2023 is to bring the ACTRIS Community together, to update the community about the most recent and ongoing ACTRIS progress and challenges, and to provide a platform for various ACTRIS and ACTRIS-adjacent groups and communities to get together.

ACTRIS Week 2023 will set the stage for the ACTRIS IMP Final Meeting and the next ACTRIS National Facility Technical and Scientific Forum.

Registration

Registration is closed.

Accommodation

ACTRIS Week 2023 participants are encouraged to book their rooms at the Atlantis Hotel at a special rate. The booking can be done via the following link. When opening the link, remember to update your travel dates and the number of persons.

Please, note that the number of rooms at a reduced special rate is limited. Once the limit is reached, you are welcome to book the rooms at the normal rate here. Besides the Atlantis Hotel, there are other abundant accommodation options in the vicinity of the Conference Centre.

Contact

For all practical questions, please, contact Mikhail Paramonov (mikhail.paramonov@fmi.fi) and/or actris-head-office@helsinki.fi

Programme

Preliminary ACTRIS Week 2023 agenda can be found here. Please, note that the programme is potentially subject to change. Please, confirm with your Central Facility leader about the exact timing of their respective CF workshops on Thursday October 26th.

Agenda is structured as follows:

Tuesday October 24 - ACTRIS IMP Final Meeting

Wednesday October 25 - National Facility Technical & Scientific Forum and ACTRIS DC Workshop

Thursday October 26 - Topical Centre and other workshops. The following workshops are to take place:

ASCC (atmospheric simulation chamber committee) workshop
CAIS-ECAC (aerosol in situ) workshop
CARS-ARES (aerosol remote sensing) workshop
CIS (cloud in situ) workshop
CCRES (cloud remote sensing) workshop
CIGAS (trace gases in situ) workshop
CREGARS (trace gases remote sensing) workshop

Friday October 27 - a guided visit to the Heraklion Archaeological Museum (morning)

Conference Dinner
Wednesday, October 25th. Exact location to be announced later.