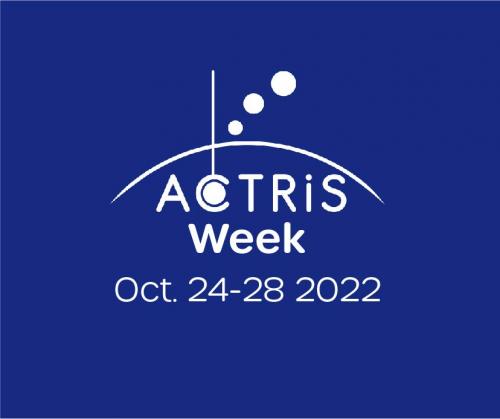 ---
Monday, October 24th - Thursday, October 27th 2022
Physical Meeting (with a possibility of remote connection)
Meeting venue

Meeting Venue:

ACTRIS Week 2022 took place in Hotel International, Prague, Czech Republic. The hotel is located in Koulova 15, 16000 Prague 6.

Physical attendees are encouraged to book the rooms for their stay at Hotel International with a special rate. Link for the booking can be found below in the Accommodation section.

Remote connection will be provided for remote participants.

Aim

The aim of the ACTRIS Week 2022 was to bring the ACTRIS Community together, to update the community about the most recent and ongoing ACTRIS progress and challenges, and to provide a platform for various ACTRIS and ACTRIS-adjacent groups and communities to get together.

ACTRIS National Facility Technical and Scientific Forum, held on Wednesday October 26th, was meant for all the ACTRIS National Facility Principal Investigators (PIs) and ACTRIS National Facilities scientists and technicians to interact with each other and with the ACTRIS Central Facilities, and to exchange experiences.

Registration

Registration is closed.

Accommodation

ACTRIS Week 2022 participants are encouraged to book their rooms at Hotel International at a special rate. The booking can be done via the following link. The rate includes accommodation with breakfast, VAT and Wi-Fi connection in your room. City tax is not included in the price and will be paid on the spot upon your arrival - 50 CZK/person/night (approximately 2 EUR). You can find detailed description of the room categories here.

Hotel International Prague is one of the cultural monuments in Prague. Thanks to its impressive building with a tower, it offers accommodations with magnificant views of Prague.

Contact

For all practical questions, please, contact Mikhail Paramonov (mikhail.paramonov@fmi.fi) and/or actris-head-office@helsinki.fi

Programme

ACTRIS Week 2022 agenda can be found here.

Agenda is structured as follows:

Mon Oct 24 - Interim RI Committee meeting (start at 13:30 CEST, for members of the Interim RI Committee only).

Tue Oct 25 - Plenary Sessions, all day (find the background document for the NF Strategy discussion here)

Wed Oct 26 - NF Technical and Scientific Forum, all day (find agenda here)

Thu Oct 27 - individual CF workshops, all day. The following workshops are to take place:

Conference Dinner
Conference dinner took place in Restaurant Deminka on Tuesday October 25th at 19:00. Address is Škrétova 1, 120 00, Prague 2. The easiest way to get to the restaurant from the conference venue is to take a bus or walk 20 minutes to metro stop Dejvická and then take metro line A to Muzeum metro stop. The restaurant is a 5-minute walk from the Muzeum metro stop.