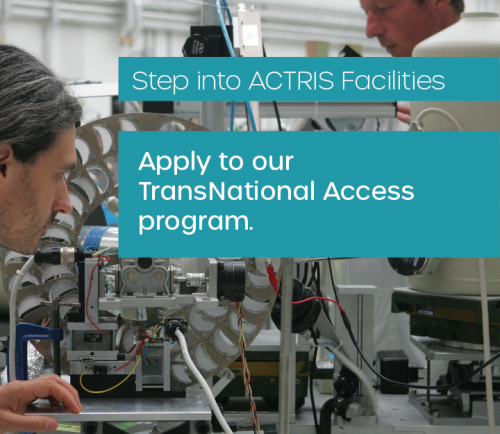 Our third (and last ) call for proposals to access ACTRIS facilities though ACTRIS IMP project will be running until March 2023. The ACTRIS IMP project offers limited opportunities for free-of-charge Trans-National Access (TNA) to specific services at 11 ACTRIS facilities comprising Topical Centres (TCs), the Data Centre (DC), National Facilities (NFs), or combined ACTRIS Facilities (NF-TC), located in 10 different countries.
The novelty for this last call for access will be the use of the Platform for managing user access to ACTRIS ServiceS (PASS). 
Interested yet?
You find the description of the TNA procedure here.
Each application will be reviewed according to the following criteria:
Scientific excellence and quality of the research activities
Relevance and impact
Quality of the dissemination plan
Potential connection with the industrial world
Potential cross-disciplinary aspects
Training benefit in the project
New users, gender equality
Timeline of the call :
Call opening period: 22 July 2022 - 31 May 2023
Access period: October 2022 – June 2023
Please note to fill in the completed application form  via PASS at least 9 weeks before the beginning of your project.
For more information about the call, click here.
Timeline of the call :