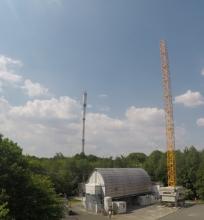 ---
1st ACTRIS NO/NO2 Intercomparison campaign
The Centre for Reactive Trace Gases In Situ Measurements – CiGas is pleased to invite you to the first intercomparison campaign for nitrogen oxides NOx within ACTRIS.
Our goal is to improve the quality of NOx measurements through standardized calibration procedures and experiments to investigate the effects of interfering factors such as water vapor, ozone (O3), nitrous acid (HONO), and nitric acid (HNO3). The intercomparison campaign will be conducted in the summer of 2023 (June 19-June 30, 2023) in the SAPHIR atmospheric simulation chamber and in the JULIAC tower at the Institute for Energy and Climate Research (IEK-8 Troposphere) of Forschungszentrum Jülich. The interlaboratory test campaign is part of the QA/QC measures for the ACTRIS national facilities. The setup of the instruments will start on June 12, 2023.
What we offer:
Comparison of gas standards and calibration setups
Test for humidity, HONO and ozone interferences
Ambient measurements from the JULIAC-tower
SAPHIR-Chamber measurements
Discussion of intercomparison results on a daily basis
Instrument training
Cost: The costs will be at least partially covered by the Transnational Access (TNA) call from the ACTRIS IMP project and interested groups can contact us for assistance. We will be glad to help the national facilities in the process.
We are looking forward to seeing you in Jülich and please do not hesitate to contact us for questions!
Please contact:
Robert Wegener, Forschungszentrum Jülich, r.wegener@fz-juelich.de
Max Gerrit Adam, Forschungszentrum Jülich, m.adam@fz-juelich.de