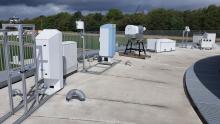 ---
ACTRIS Centre for Cloud Remote Sensing is happy to organise an online workshop on Friday 26th of May, 2023. Principal Investigators of the National Facilities are invited to participate, as well as any member of the cloud remote sensing community.
Here is the agenda:
09:00 – 09:30

Plenary

Introduction, presentation of ACTRIS organization, presentation of E-PROFILE, state of data in ACTRIS Cloud Remote Sensing Data Center (CLU)

09:30 – 12:00

Break-Out

ALC Task Group*

Break-Out

MWR Task Group*

Break-Out

DL Task Group*

Break-Out

DCR Task Group*

12:00 – 14:00

LUNCH BREAK

14:00 – 15:00

Plenary

Feedback from task groups

15:00 – 15:30

Plenary

Discussion on advanced and multi-instrument products

15:30 – 16:00

Plenary

CRS NF Labelling: identify which stations are ready to start step 1A

16:00 – 17:00

Plenary

Scientific highlights including EarthCare Cal/Val Activities

17:00

Plenary

Conclusion
*Topics to be discussed in Task Group breakout meetings:
- List of proposed activities, conducted within ACTRIS, PROBE, E-PROFILE
SOPs - incl. scanning and scheduling requirements

Data format ("Raw2L1-like")

Calibration

Corrections/ Pre-processing

Quality control (Housekeeping variables, Geophysical variables)

Single instrument products

Necessary ancillary data (if any)
- List available resources (repositories for codes, documents, etc)
- Identify contributions towards PROBE/ ACTRIS/ E-PROFILE deliverables
- List needs for PROBE support grants (in-person visits STSM; virtual mobility grants VMG)
- Calendar of activities
- Identify areas that lack activity
- Propose specific workshops and trainings
Looking forward to seeing you online with us!