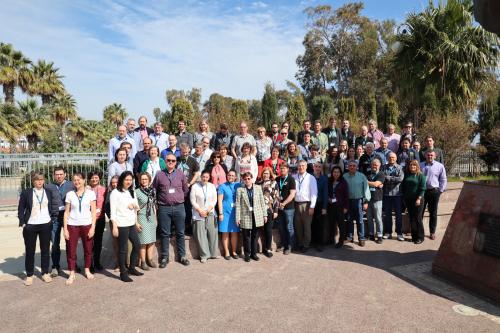 ---
Meeting venue

Meeting Venue:

Address: Athens Ave 6, Larnaca 6302, Cyprus

Sun Hall Hotel is a 4-star hotel accommodation, situated in the heart of the city of Larnaca, at the central coastal promenade Phinikoudes Beach. Phinikoudes is one of the most famous areas in Cyprus, known for its cafes, bars, restaurants and direct access to the adjacent shopping and commercial centre. The picturesque marina is within walking distance.

The hotel offers a variety of rooms and conference facilities, a restaurant and a bar, as well as an outdoor pool, a fitness centre and sauna.

Hotel Booking
We have reserved a number of rooms at the Sun Hall Hotel specifically for the meeting participants. There are special rates for bookings made before February 10th.

To make your reservation at the Sun Hall Hotel, please, download and fill out the hotel reservation form. Once completed, send the form to Mr. Evripides Erodotou at info@sunhallhotel.com.cy of fax to +357-24-652717.

Accommodation is to be booked and paid for by participants themselves.
Registration

Registration has closed. Please, contact Mikhail Paramonov for any questions (mikhail.paramonov@fmi.fi)

Contact

Local organiser, practicalities: Jean Sciare (j.sciare@cyi.ac.cy)

Other questions: Mikhail Paramonov (mikhail.paramonov@fmi.fi)

Programme
Excursion
We are happy to announce an excursion for the meeting participants in the afternoon of Wednesday March 4th. We will visit Cyprus Atmospheric Observatory (CAO) and watch short demo flights of drones at the Unmanned Systems Research Laboratory (USRL) facility. The trip will start after lunch, will take approx. 5 hours in total and will end just in time for the Social Dinner.
Social Dinner

A social dinner will take place on Wednesday March 4th starting at 19:00 at Militzis Traditional Tavern, 42 Piale Pascha, 6026 Larnaca.

Travel Info
Larnaca International Airport (LCA) can be reached on daily direct flights from, e.g., Athens, Bucharest, London, Moscow and Vienna. Other major European airports have direct flights as well, several times per week, e.g., Amsterdam, Frankfurt, Munich, Warsaw, etc.

From the airport: Upon arrival, there are many taxis to be found at the exit of the airport. The Sun Hall Hotel is approximately 10 min from Larnaca Airport (LCA) and 90 min from Paphos Airport (PFO) by taxi. The approximate cost of a taxi is 20 EUR from Larnaca Airport and 150 EUR from Paphos Airport. Alternatively, you could use a shared taxi service by booking it prior to your arrival here.