Variables & Measurement Techniques
The key-mission of CIS is to offer operational support to ACTRIS National Facilities (NFs) operating instrumentation for continuous long-term measurements of cloud occurrence, cloud water content, and cloud droplet effective diameter at observational platforms, or for episodic measurements of cloud particle size distributions, chemical cloud water composition, and ice nucleating particles during dedicated laboratory and field campaigns.
Observational Platforms
Observational platforms have to provide the two mandatory variables
liquid water content
droplet effective diameter
and must provide at least two of the specializing variables
droplet number concentration
droplet size distribution
ice particle number concentration
ice particle size distribution
INP number concentration
INP temperature spectrum
bulk cloud water chemical composition
Measurement Techniques
mandatory variables

PVM-100
GFAS-DPOL

© ZAMG/Elke Ludewig

Particulate Volume Monitor PVM-100 from Gerber Scientic Inc.

© ZAMG/Elke Ludewig

Fog Monitor GFAS-DPOL from DMT

 

INP measurements

 

cloud water chemistry

The cloud water chemistry analysis contains both the cloud water sampling with specialized collectors and the subsequent offline chemical analysis by i.e. ion chromatography systems.

cloud particle measurements

Supported instruments for cloud particle measurements are based on Mie-Scattering Probes as CDP and Imaging Probes as CPI.
Exploratory Platforms
tbs
Achievements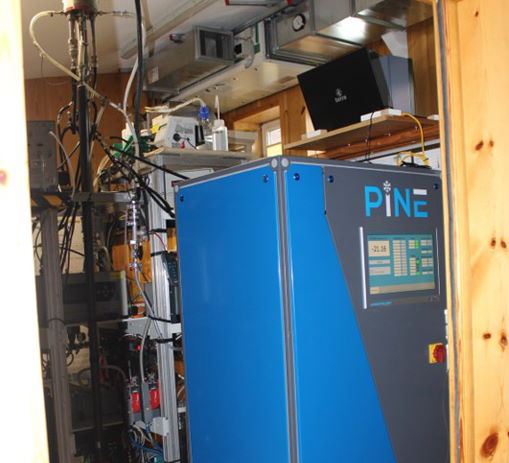 © KIT/Pia Bogert
09 November 2021, by CCIce
start of first long-term test campaigns with the mobile cloud chamber PINE at the Sonnblick Observatory, Austria and Mt. Helmos Observatory, Greece
Since summer 2021, two PINE instruments from KIT are installed at the potential ACTRIS CIS sites Sonnblick Observatory, Austria and Mt. Helmos Observatory, Greece to perform longterm INP measurements in boundary and free-troposphere conditions. These test campaigns will also show the scientific potential to measure INPs at different location at the same time.
Publications