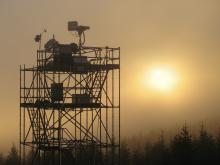 ---
The Center for Cloud Water Chemistry (CCWaC) is pleased to invite you for the first dedicated workshop on cloud water sampling and chemical analysis. The workshop will be held as an online Zoom meeting on
31 May 2023, 13:00 – 17:00
Agenda:
Results from the SBO cloud collector intercomparison

Preparation of a second intercomparison under warm cloud conditions in autumn 2023

Announcement of an interlaboratory comparison regarding chemical analyses in 2024

Discussion of ACTRIS guidelines for cloud water sampling and chemical analysis

Discussion of technical requirements for ACTRIS cloud composition variables

Discussion of the instrument schema for the ACTRIS database
If you are planning to participate, please send a brief notice to dominik@tropos.de.
About one week before the workshop, draft documents on measurement guidelines and technical requirements will be shared with all participants as a basis for the discussions. Feel free to forward this invitation to anyone who might be interested in the ACTRIS activities on chemical cloud water composition now or in the future. We would be glad to get feedback from different perspectives.
Please do not hesitate to contact us in case of questions!
Dominik van Pinxteren, TROPOS, (dominik@tropos.de)
Uwe Käfer, TROPOS, (kaefer@tropos.de)