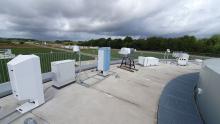 ---
ACTRIS Centre for Cloud Remote Sensing (CCRES) organized a workshop on 14 and 15 November 2022. The workshop was held physically at the SIRTA Atmospheric Observatory, Ecole polytechnique, Palaiseau, France.
Principal Investigators of the National Facilities were invited to participate, as well as any member of the cloud remote sensing community.
Here are some of the sessions:
New calibration transfer methodology for different radar frequencies

, Felipe Toledo

Status update of the Cloudnet data portal

, Simo Tukiainen

Boundary layer characterization based on stability and turbulence measurements

, Andrea Burgos-Cuevas, Tobias Marke

Operational 3D-wind retrievals from scanning Doppler lidar and Doppler cloud radar

, Bernhard Pospichal

Overview and plans towards implementation of MWR processing

, Tobias Marke
A hands-on training was proposed on Doppler cloud radar, weather station and disdrometers. It was provided by Jean-Charles Dupont, Lukas Pfitzenmaier, Gionata Ghiggi, Marc Schleiss, Marc-Antoine Drouin and Antoine Gibek. Here are the themes that were addressed during this training:
The requirements on the set-up and acquisition,

Raw data formatting into netcdf,

Z-DD processing and Doppler cloud radar calibration constant monitoring,

Quicklooks, alerts and flag for NF.
Looking forward to seeing you there!